NTRA
Logo: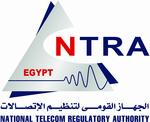 The National Telecommunications Regulatory Authority (NTRA) was established in accordance with the provision of Law No. 10, for the year 2003 'the Telecommunications Regulation Law' as a national authority to administer the telecommunication sector, considering transparency, open competition, universal service and protection of user rights as a general outline for NTRA scope of work.
The ideal commanding the activities of NTRA is to become an active pace maker within the telecom sector, building the capacity and the reputation, which allows it to be an independent and prudent arbiter among the different stakeholders in the sector; the industry, the state and the consumer.
It is within this equilateral triangle of Industry, State and Consumer, set inside a regional arena, and embedded in a broader context of rapid global changes, that the playing field upon which NTRA is set to score and excel truly exists
The state provides the national and international policies owning the scarce resources, regulating and enforcing fundamentals and ethics of fair competition among industry players while protecting the consumers' rights.